Canada has constantly prided itself as one of the best destinations for foreigners to advance their academic interests. Over the years, the North American country's colleges have attracted a vast population of students from different countries of the world.
On the one hand, many Canadian academic institutions offer quality education and on the other hand, Canada is home to dozens of colleges with low tuition for international students.
If you've long cherished the idea of pursuing college education in a foreign country without spending unreasonably, odds are that Canada is one of the countries on your mind. In that case, we'd like to walk you through a list of the top 10 Canadian colleges with affordable tuition for international students. (These colleges have been arranged in no particular order)
---
Bow Valley College is a prestigious seat of learning that has attracted numerous international students. It is one of Canada's best colleges not only in terms of affordable tuition fees but also in terms of service delivery. Interestingly, Bow Valley College boasts a dependable student support system alongside a generous amount of school facilities.
Students at Bow Valley College are allowed convenient access to the Internet and a good deal of relevant books. This college charges its international students relatively affordable tuition which ranges between $6,000 and $11,234. If you're much fascinated by the affordability of the college's tuition fee, it should interest you that the stated tuition fee covers the several materials that an international student will require in the course of their program at the college.
Luckily also, Bow Valley is one of Canada's highly recognized seats for quality college education.
---
Algonquin College claims a remarkable place among Canada's colleges with low tuition for international students. This, without any doubt, is one of the reasons why lots of foreign students are attracted to Algonquin.
At Algonquin College, the yearly tuition fee for foreign students hovers around $9,054 and when broken down, this (fee) is estimated around $4,527 per term. The stated tuition fee isn't expected to cover the costs of textbooks and by the time we factor in the costs of textbooks, an international student's annual tuition fee may increase up to $12,000.
Not only is Algonquin considered attractive for its affordable tuition fee but also, the Canadian institution offers quality education. It's definitely not a bad idea to have Algonquin in your list of Canada's best colleges for quality education with affordable tuition fees.
With its campuses stationed in various countries, this college is a notable academic institution that admits 40,000+ applicants yearly. The institutions 40,000+ admission slots are filled by diverse individuals applying for any of full-time, part-time and online study routes.
Every year, Fanshawe College welcomes as many as 1,000 international students coming from differing countries of the world. Meanwhile, this college offers 200+ programs including diplomas, degrees, apprenticeships and certificates.
The college's tuition fee for international students ranges between $13,623 and $14,223. Besides being an institution with relatively affordable tuition charges, this college is earmarked as a fast-growing seat of learning.
Moreover, students of the college, as well as the college's alumni, are allowed access to free career services.
This is a seat of learning with beautiful history as one of the oldest Canadian colleges with cheap tuition for international students. It has been in existence for about 50 years and is highly reputed for consistent delivery of quality education to both foreigners and Canadian nationals.
Lambton College's tuition fee for international students can go as low as $7,000. Despite charging relatively low for tuition, Lambton College offers programs in various essential fields including, but not limited to, business, health, and information technology.
Not only has Lambton College lived up to the claim of offering quality education, the college's alumni have also attested this claim. International students willing to study in Canada can take advantage of admission into Lambton College to enjoy low tuition combined with an experience of quality education.
Georgian College generously favors admission seekers coming from English-speaking countries. This clarifies that the college prioritizes language as a requirement for admitting applicants.
The college is open to applicants from non-English-speaking countries but such applicants will have to tender their evidence of language proficiency. Remarkably, Georgian College is known to have attracted more than 1,400 foreign students hailing from differing countries of the world.
The tuition fee for international students at Georgian College ranges between $13,845 and $32,431. Notably, the fees vary considerably depending on a student's preferred program.
Without any doubt, the quality of education offered at Georgian College is actually worth more than the associated tuition fee. With a total of seven campuses stationed in varying locations, Georgian College may be considered one of Canada's rapidly growing colleges with low tuition fees.
Camosun College is an institution remarkably known for admitting a considerable number of international students every year. This college charges international students low tuition while still delivering quality education to them.
International applicants can compete for the college's 1000 slots –the minimum number of admission slots Camosun College reserves yearly for foreign admission seekers. As an innovation-friendly institution, Camosun College focuses attention on building its students' innovative capabilities so that they can excel in business and other spheres of management.
Camosun College has its campus located in Greater Victoria and as a Canadian institution with low tuition, the college charges an annual tuition fee to the tune of $7000. While quality education is guaranteed at Camosun College, it is also worth noting that the college holds training sessions targeted at industries, businesses and students.
Camosun College's course suite incorporates a good number of graduate and post-graduate courses. Also, the various programs offered can be taken on both full-time and part-time bases. With a record of 1,100 foreign students, Camosun College is undeniably an attractive institution to international students. If Canada is your most preferred destination for college education, you can expect to look the way of Camosun College for quality education at a relatively low cost.
---
Seneca College is a proven Canadian institution for international students to pursue their part-time or full-time college programs at reasonable costs. Specifically, the college's part-time mode makes a provision for working students to conveniently attend lectures after returning from work.
At Seneca College, affordable tuition fees are guaranteed for both part-time and full-time programs. Seneca College is touted as an institution that prioritizes the welfare of international students thereby ensuring that such students are treated fairly.
While a foreign student may budget up to $13,000 for their tuition at Seneca College, the institution demands payment of a $65 CAD application fee. Seneca College charges every international student the stated application fee at the point of document submission.
$13,000 is comparatively a reasonable tuition fee and if you're actually comfortable with the additional fee (precisely the $65 CAD application fee), Seneca College might just be the perfect fit for your kind of international student.
Loyalist College is particularly one of the most attractive Canadian colleges with low tuition for international students. Not only does Loyalist College offer a good number of courses, it is also an institution with a learner-oriented atmosphere and dedicated academic staff.
Even if Loyalist College doesn't choose to publicize itself, many of the college's alumni will attest that it's a great academic institution for both foreigners and Canadian nationals.
International students at Loyalist College pay as cheap as $13,000 for tuition. This low tuition is definitely a pointer to the fact that Loyalist College is one of the cheapest Canadian colleges for international students.
The testimonies by its current international students, the assurance of fair treatment and certainty of low tuition are all convincing reasons that Loyalist College is worth including in the list of top 10 cheapest Canadian colleges for international students.
Lethbridge College offers as many as 50 programs and according to verifiable statistics, it is the first (college) to have received funding from the government of Canada since the late 1950s.
Besides being a long-existing institution with a remarkable history of quality education, Lethbridge College employs a practical teaching approach that has proven effective.
The college maintains a comparatively cheap tuition fee for its international students. The tuition fees for foreigners at Georgian College range between $6,000 and $22,000. Notably, the fees vary considerably depending on a student's preferred program.
Lethbridge College boasts a population of 4000+ students. With statistics indicating Lethbridge College as one of the institutions that uphold Canada's history of reputable college education, it would be awesome for international students to experience what the college has got to offer. Beyond that, Lethbridge College boasts an academic environment that conduces to the learning goals of foreign students.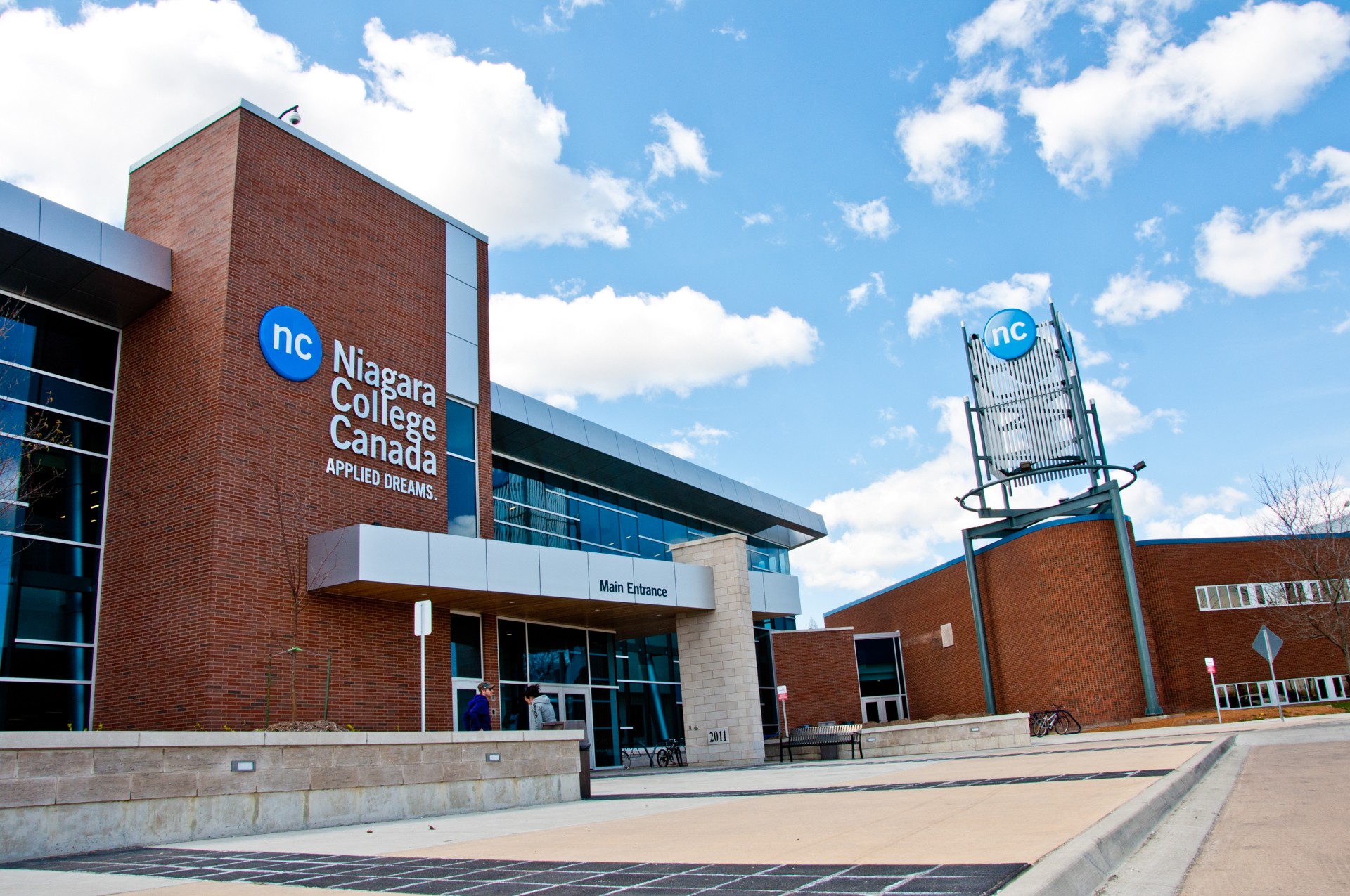 Niagara College may not seem to have a tuition fee as cheap as what many of the other listed colleges offer but quite frankly, the quality education offered measures up to the tuition fee.
If, as an international student, you deem it reasonable to pay up to $420 per credit hour, Niagara College could be your befitting choice among Canada's prestigious colleges for foreign students.
Niagara College is a seat of learning that has always attracted lots of applicants within and outside Canada every year. While Niagara College is distinguished for charging its tuition fee per credit hour, it might not be the best option for a foreign admission seeker budgeting as low as $7,000 as their yearly tuition fee for college education in Canada.
Quality education is something lots of international students crave and considering that Canada is an undisputed haven for quality education, international students can bank on the country for excellent college education such as what Niagara College offers.
---
Conclusion
Asides the delightful things you've heard about Canada having a soothing academic milieu for international students, it's fascinating that studying in Canada attracts a handful of benefits such as an experience of fun-filled campus life, the chance to earn while learning, exposure to plenty of research opportunities, and the opportunity to access various institutions with affordable tuition.
At this juncture, we strongly believe that you have gained ample exposure about Canada's host of colleges with cheap tuition for international students.